Toe systolic blood pressure
SysToe measures toe pressure as part of the diagnosis or monitoring of peripheral arterial disease in the lower limbs.
SysToe represents an ingenious application of infrared photoplethysmography (PPG) coupled to a unique algorithm, developed and patented by Atys medical. By means of a photoelectric cell, PPG detects changes in blood volume in skin.
SysToe, by virtue of its reliability, ease of use and affordable price, enables toe systolic pressure measurement to be conveniently and readily performed by all health professionals (angiologists, nephrologists, diabetologists, vascular specialists, wound care centers, …).
SysToe measures also finger systolic pressure for assessment of arteriovenous (AV) graft or fistula.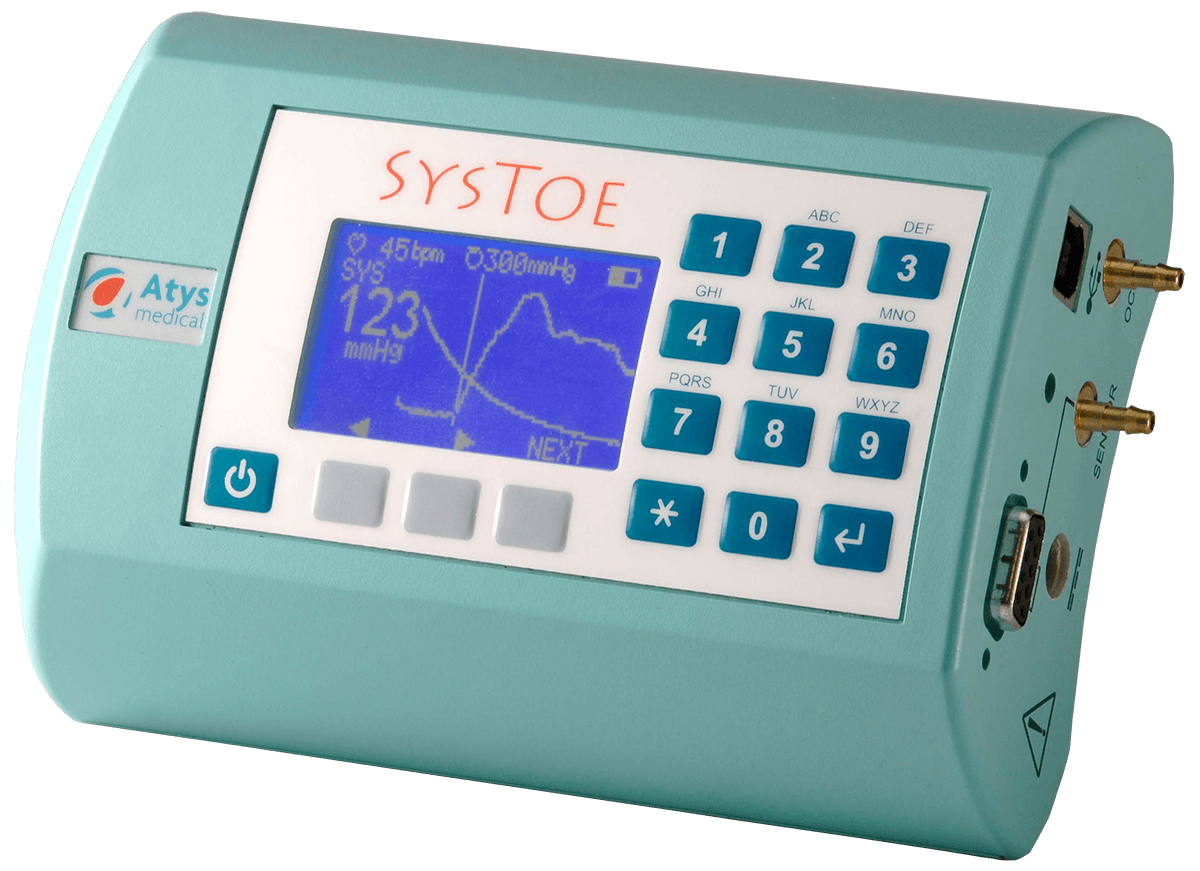 The user installs the occlusion cuff on the proximal phalanx of the toe or finger.
He/she positions the sensor with its cuff on the distal phalanx.
He/she presses the START key.
Finally, he/she validates the toe blood pressure displayed on the SysToe.
The measurement of toe systolic blood pressure with SysToe is easily achievable even outside the vascular laboratory.
The cuffs are inflated and deflated automatically by the device and not by the user.
The same cuffs can be used for the toes and fingers.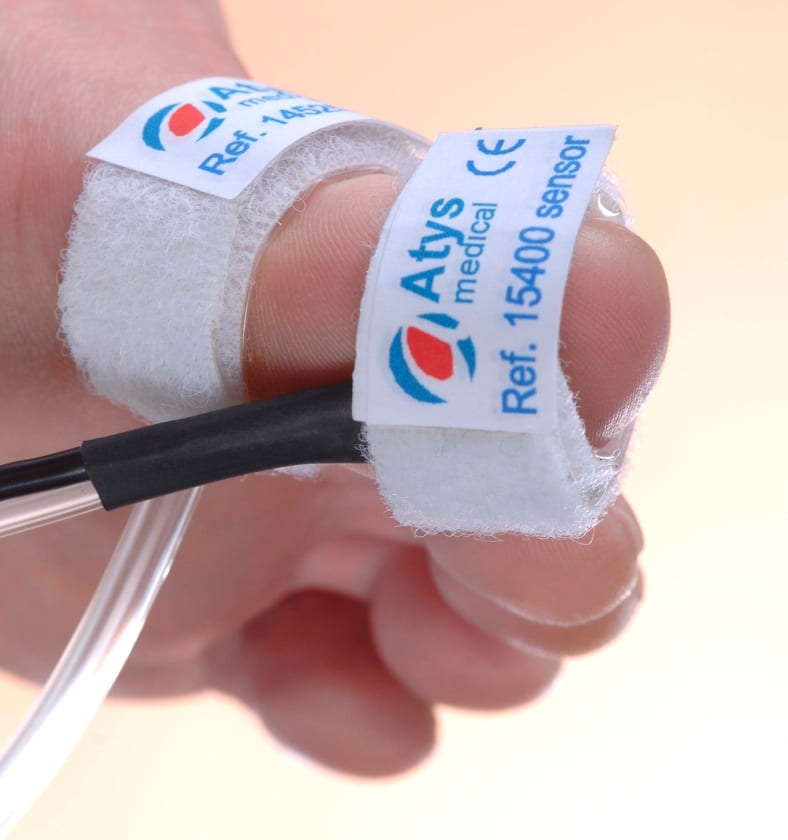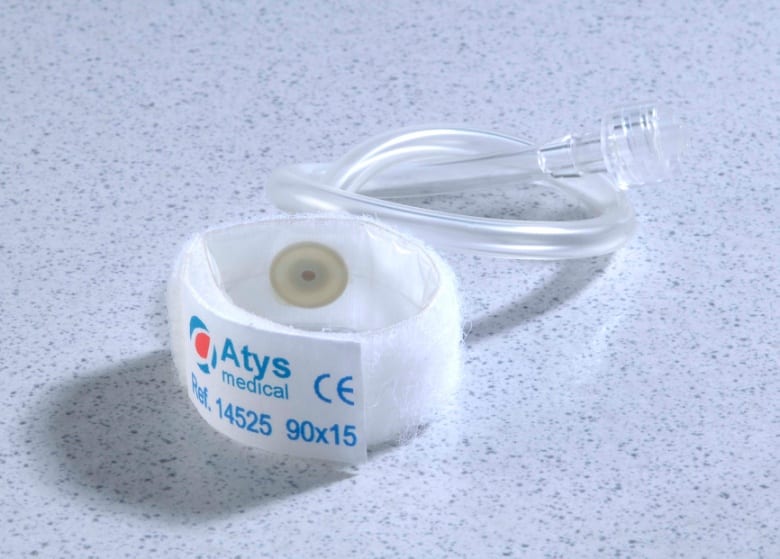 SYSTOE is powered by a battery.
It weighs less than 0.5 kg.
It is easily transportable.
The measurement of toe or finger pressure can be carried out indifferently in an examination room or at the patient bed.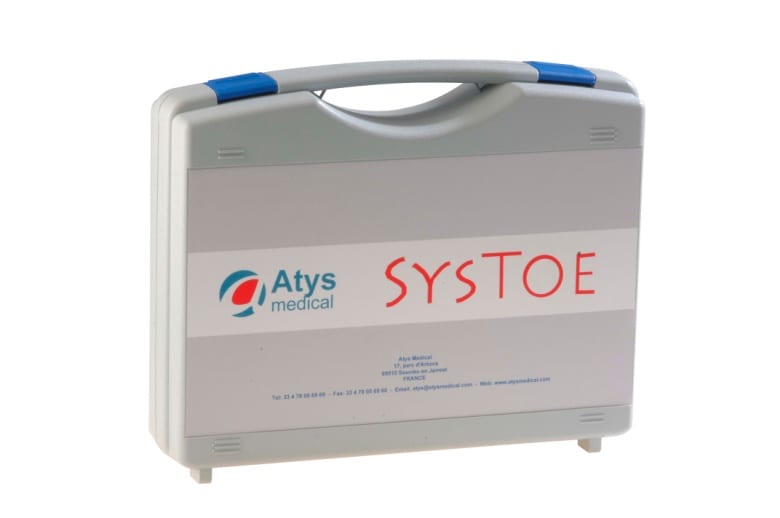 Precision and sensitivity
SysToe is able to measure blood pressures below 20 mmHg.
The occlusion cuff is deflated automatically at a controlled rate that ensures good measurement accuracy.
Clinical tests on 200 patients performed at the Nimes University hospital have demonstrated the reliability of the SysToe compared to laser Doppler. This study is published in "European Journal of Vascular and Endovascular Surgery" .
In less than two minutes, the systolic pressure is available on the screen as well as the systolic pressure index if the brachial pressure is known. The pressure index is the toe brachial index ( TBI or TBPI) or the finger brachial index (FBI) depending on the considered extremity.

Comparison with ankle pressure
Toe systolic pressure shows a good agreement with ankle systolic pressure but it has the advantage of remaining measurable and reliable in patients with calcification lesions of the arterial wall.
For diabetic foot, Ankle Brachial Index (ABI) greater than 0.6 has little predictive value and needs to be replaced or supplemented by TBI.